Mark Price as Francis of Assisi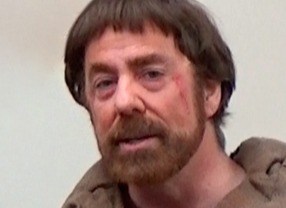 Join us for a fantastic performance by Mark Price as "Francis" on Dec. 3 at 6:30pm in the Church.
There will be a free will offering. All are welcome, and an RSVP is not necessary.
Francis of Assisi was a poor little man who astounded and inspired the Church by taking the gospel literally—not in a narrow fundamentalist sense, but by actually following all that Jesus said and did, joyfully, without limit and without a mite of self-importance.
During the last years of his relatively short life (he died at 44) he was half blind and seriously ill. Two years before his death, he received the stigmata, the real and painful wounds of Christ in his hands, feet and side.
This is a theatrical presentation that many say is more thought‐provoking than any they have ever seen, Mark Price brings key figures of history to life. They will speak to you about their lives and experiences with Jesus.
Mark hopes that his Portrayals will encourage people to get to know those who were closest to Jesus, to dig deeper into the Scriptures and to grow in their faith.
SCENE BREAKDOWN
Scene 1 ‐ Introduction
Scene 2 –  Living in Sin
Scene 3 ‐ Conversion
Scene 4 ‐ Friars Minor
Scene 5 ‐ Sultan
Scene 6 ‐ Forced Out
Scene 7 ‐ All of Creation
Scene 8 ‐ Conclusion 
Scene 9 ‐ Q&A – Questions from the audience
The Reviews Are In:
​"It was Wonderful."
"Thank you for a touching and real performance tonight. You have such a gift for this ministry."
"Great performance last Sunday!!! "
"I was privileged to experience your inspirational, thought-provoking presentation, "Face to Face with St. Francis of Assisi" last Sunday at All Hallows Parish… You certainly brought our Seraphic Father to life for me!… Thank you again for sharing your talent to bring people to Jesus through St. Francis!"