Supporting La Jolla Meals on Wheels
DATE(S)
03/06/2021 - 03/28/2021
Pay attention to the work of La Jolla Meals on Wheels this month. It offers a good example of how you can give alms during this Lent. Offer them your service to the needy, which is a form of alms, or your financial support, and see your practice of prayer, fasting and almsgiving grow and be pleasing to God. Visit with us after weekend Masses March 6th-28th, and add your support.
At La Jolla Meals On Wheels, our mission is to promote independent living for homebound seniors and/or disabled persons by providing nutritious meals and caring visits in La Jolla and surrounding neighborhoods in University City.
"My husband and I have been delivering Meals on Wheels as a team for several years and feel so blessed to be able to give back to those in need. It takes less than 2 hours total and we enjoy being a good part of the day for those who rely on this service. We don't see every client we deliver to, but those who greet us at the door are always so appreciative and happy to see us. The staff who set up the meals are always organized and give us everything we need once we pick up the meals. They are on top of any and all changes we need to know of and send us off with a thank you and a smile. We encourage others to try this experience to see how easy and rewarding it is. We've had no problems delivering during the pandemic and feel it was even more important to be there during these challenging times. If you don't have the time or energy to deliver in person, please consider making a donation to this amazing cause for those in need…"
— Carolyn Robinson, Parishioner
Reflecting on a La Jolla Friendly Senior during the pandemic
La Jolla Friendly Visitors has one client who has been with us for five years. She is 99 years old and amazingly, still lives by herself. She cooks her own meals and walks several days a week.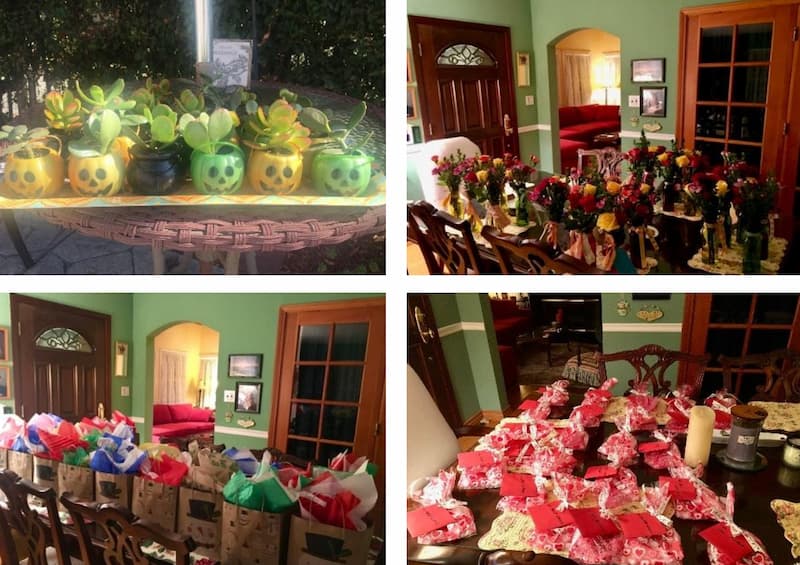 I assigned her two volunteers because of my concern for her age and isolation. She shares stories, concerns, and laughter with these two volunteers. We take turns visiting her on her patio while wearing masks and maintaining a safe distance.
I reached out to All Hallows to ask if a visiting minister could bring communion to our senior. She and her volunteer connected in a special, spiritual way. Due to concerns with the virus, the volunteer mails a prayer to our senior which they share together over the phone. The minister calls her periodically to check in and bring her treats.
Our Meals on Wheels program delivers Thanksgiving and Christmas dinner to this senior every year. These holiday meals and contacts have been a huge blessing for her throughout the years.
As the relationship has developed we have all come to know her favorite treats, and we take turns bringing them to her. She thanks us regularly for what has become a tremendous support system. She calls us her "angels" and expresses her gratitude to us weekly. It is nice to know we all play a small role in helping her through the later stage of life.
All of us at La Jolla Friendly Visitors have been remembering our seniors with special holiday treats. We continuously call, e-mail, Zoom, and send cards to stay connected. We visit outdoors with masks and social distancing when it is safe to do so. If helping to brighten a senior's day appeals to you and you would like to become a Friendly Visitor, please contact Jeannie Walsh at ljfriendlyvisitors@gmail.com or (858) 922-2297.
SEE ALL UPCOMING EVENTS